This article applies only to Minecraft: Java Edition.
When you try to play the game and see this error message, you'll need to troubleshoot system memory issues. It may be fixed by a simple system reset (reboot) but it may have to do with the amount of RAM allocated on your device.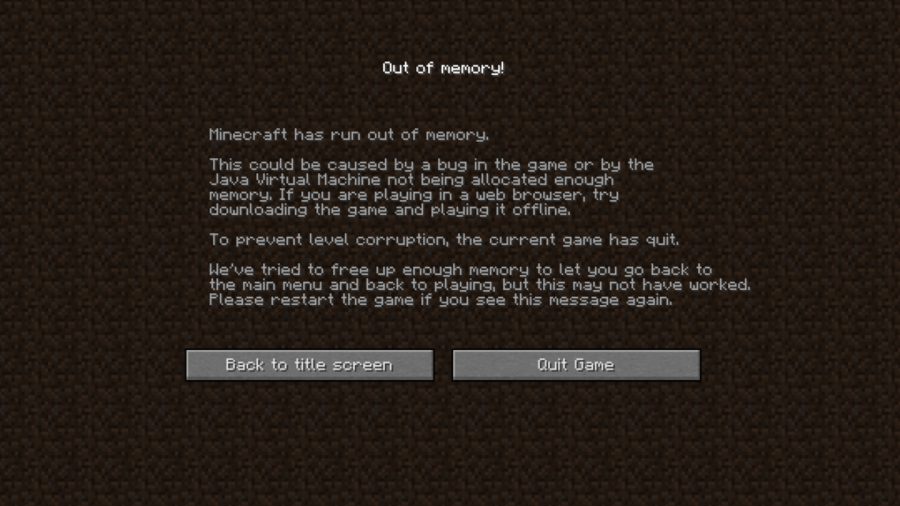 Troubleshoot Memory Issues
Reboot/Restart Your Computer 
Close all programs and restart your computer.

Launch Minecraft.
Change Settings to Free Up Memory
It is not uncommon for a player to have their game settings set higher than what is recommended for their system or device setup. Try these adjustments to see if they free up enough memory to launch your game.
Lowering the Video Settings in your

Pause

menu 

Adjusting some or all settings to a lower quality can help the game run a bit more smoothly 
Checking the Allotted RAM with your Device/Server 
Sometimes the memory Minecraft uses surpasses the amount of RAM you have available on your device or server. For Java users specifically, this may require server downsizing as your game might have too many objects or settings to load and not enough memory to keep up with what needs to be generated. 
Check to make sure your system requirements meet the

minimum system criteria

Downsize your server if necessary 

Adjust your settings to lower quality requirements
Restart your server once you have performed these actions.
If you are using any game mods that may be causing an issue with memory, refer to those individual sources for additional help. If nothing else helps, you may need to upgrade the RAM on your server.